A Master Guide to the Golf Communities in Viera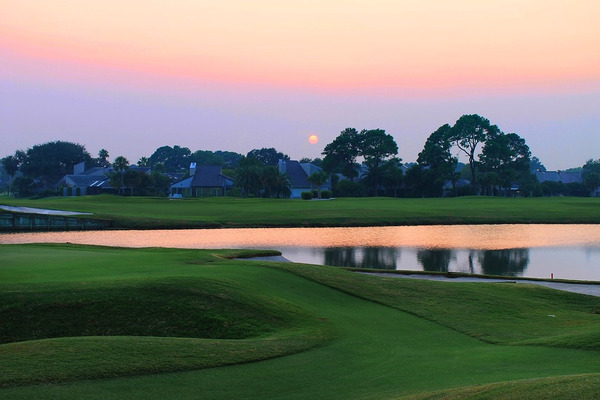 Posted: November 17th, 2021
Luxury Entertainment in Your Backyard
Picture the following: you're relaxing in a chaise lounge on your screened-in patio with a hot mug of coffee in hand. As you take your first sip, you look out over the verdant fairway of the golf course situated behind your home. You watch as a few golf carts come to a stop near the sand trap. The air is clear, the scenery is breathtaking, and life is good.
This glimpse into golf course living isn't some far-off dream; in fact, it's a reality for many Viera homeowners. Viera is home to two award-winning golf courses: Viera East Golf Club in Viera East, and Duran Golf Club in Viera West. Several luxury communities have grown around these courses, offering residents world-class amenities, casual elegance, and year-round fun and entertainment.
Viera's Many Golf Course Communities
Viera is home to at least 17 incredible golf course communities, each offering a variety of community amenities and a unique vantage point of its connected golf course. Each of these communities caters to its homeowners in unique ways, making them great places to live for growing families, business professionals, and beyond. Read on to learn more about the many golf course communities of Viera, FL.
Viera East Golf Course District Association Communities
Aberdeen
Aberdeen is a grand subdivision situated on the front 9 holes of the Viera East Golf Course. This beautiful collection of 100 homes offers incredible walkability and plenty of walking and biking trails to the golf course and beyond. Aberdeen represents approachable luxury, with luxuriant landscaping, tropical palm trees, and a number of beautiful waterfront vistas of golf course water features.
Addington
The noteworthy community of Aberdeen is comprised of 69 single-family homes built by well-known luxury homebuilders in the area. Aberdeen is the perfect combination of metropolitan living and quiet golf getaways, with natural Florida beauty, sporting and entertainment options, and proximity to the best amenities that Brevard County and nearby Orlando have to offer.
Ashton
Ashton is the perfect community for growing, active families. A neighborhood of 31 single-family homes built by award-winning Parrot Homes, Ashton includes tennis courts, a pool and spa, a fully equipped fitness center, shuffleboard, and walking and biking trails, giving residents every opportunity to enjoy the outdoors and stay fit. Ashton homes offer beauty and functionality at affordable price points, making them attractive to many potential buyers.
Blackheath
If you're looking for peace, quiet, and maintenance-free living, look no further than Blackheath. This intimate community of 29 custom-built duplexes that offer the feeling of living in single-family homes. Each of these homes has been built to showcase the best views of the golf course, offering residents abundant beauty every day. Blackheath encourages active lifestyles and offers the opportunity to live and play in Florida's natural beauty.
Brightwood
Lush, verdant landscaping and attractive views of the fairways and lakes are the hallmarks of the Brightwood community in Viera East. A subdivision of 66 unique homes created and constructed by known award-winning builders, Brightwood is tucked away enough to offer tranquility while still giving residents access to the best entertainment and dining options in Central Florida.
Canterbury
The homes of Canterbury are positioned at the 9th and 10th holes of Viera East Golf Club, offering unparalleled views of the golf course. Canterbury homes offer plenty of variety, luxury, and space to retreat from the hustle and bustle. Centrally located, Canterbury residents live near some of Central Florida's best schools, attractions, and entertainment, making these homes perfect for families.
Collingtree
The Collingtree community is heaven on earth for homeowners who appreciate the natural beauty of Florida. Surrounded by wildlife preserves, Collingtree offers pristine views in a vibrant community. The 45 homes that make up this neighborhood offer modern luxuries at reasonable price points, giving homeowners the opportunity to enjoy stress-free living with all the comforts they can imagine.
Durban Park
The 24 single-family homes that make up Durban Park are in close proximity to some of the beautiful water features and conservation areas of the Viera East Golf Club. Durban Park also offers easy access to the pro shop, driving range, and practice green, making this the perfect subdivision for any avid golfer. Better still: you'll never have to worry about lawn maintenance again, as it is provided on this side of the course.
Oaklefe
Enjoy townhouse living at the heart of the Viera East Golf Club in the Oaklefe subdivision. Meticulously manicured, residency here includes lawn and exterior maintenance so you can relax and enjoy your life while your property stays just as beautiful as ever. Nestled among the conservation areas of the golf club and backing up to the main clubhouse, this location is perfect for families and single living.
Parkstone
The Parkstone subdivision features 48 gorgeous duplexes, tucked away between the fairway and the largest swath of wildlife preserve in the Viera East area. Enjoy scenic walks along trails and through the wooded areas and enjoy identifying some of Florida's native flora and fauna. Enjoy spacious floorplans that offer lots of flexibility in terms of layouts and usage. Enjoy walking just minutes to the community's best amenities!
Stratford Place
Stratford Place boasts some of the most exquisite estates in the entire Viera East Golf Club district. Enjoy updated homes, distinguished finishes, and the best modern home amenities available to date. Many of the homes in Stratford Place feature sparkling water views and plenty of space to entertain surrounded by Florida's natural beauty. Perfect for anyone who wants to establish themselves and their families in a prestigious area in Central Florida.
Woodhall
Woodhall is a community of duplexes, featuring 70 homes that offer space, quality materials, and everything you need to successfully entertain guests. Homeowners are steps away from the community pool and spa, library, and fitness center. Woodhall is known for its beautiful, tropical landscaping, with residents even penning a poem to the massive "Century Plant" aloe at the entrance to the community.
Indian River Colony Club
An Independent 55+ Golf Community in Viera East
This unique neighborhood is truly one-of-a-kind: a private golf course community that revels in the scenic beauty of natural Florida. This community has been designed with serious golf enthusiasts in mind, even including a free year of golf lessons with the purchase of a home! Indian River Colony Club is an established military retirement community made of beautiful pool homes with plenty of natural scenery.
Duran Golf Club Communities in Viera West
Fairway Lakes
This private, gated community offers beautiful lakefront and golf course view at every turn, combining elegance and convenience for the ultimate living experience. Fairway Lakes offers a family friendly yet elevated environment, allowing families to live in style with all the modern conveniences you could wish for. With plenty of wildlife preserve surrounding the area, residents are sure to see some of Florida's most beautiful creatures.
Heritage Isle
Heritage Isle is the epitome of active adult living. A well-known 55+ community in Viera West, this charming community is made up of several smaller villages. The crown jewel of this neighborhood is its state of the art clubhouse, featuring a fitness center, a library, activity and game rooms, and a ballroom. Adjacent to the Duran Golf Course, residents can enjoy views of lakes and verdant green grass.
Wyndham at Duran
Wyndham at Duran is one of Viera's premier golf course communities, featuring sprawling estates with the most impeccable features and finishes. Access the Duran Golf Club on foot or by golf cart -- it's just moments away. Wyndham at Duran homes are known for their exquisite design and their outdoor living spaces, which are surrounded by gorgeous fairway and water feature views.
Modern Duran
Modern Duran is Viera's exclusive modern community, a neighborhood featuring 19 exquisitely built modern estates. Homes in this neighborhood are known for their seamless integration of indoor and outdoor living spaces, as well as for their clean architecture and state of the art living amenities. Enjoy views of one of America's best golf courses right outside your home, and enjoy living a worry-free life in some of the most beautiful homes in Central Florida.
Golf Course Living Offers Accessible Luxury
The beautiful golf courses of Viera are built to showcase the natural beauty of Central Florida, giving the golf course homes surrounding them the same breathtaking vistas day after day. Many of these golf course communities encourage active, healthy lifestyles, with plenty of amenities and facilities that are great for the whole family. Viera's golf course homes for sale are among some of the most luxurious in Brevard County, offering elegance and convenience in one beautiful package. To learn more about available golf course homes in Viera, call Ellingson Properties at 321-750-7050.