Finding the Best Inspector for Your Home Purchase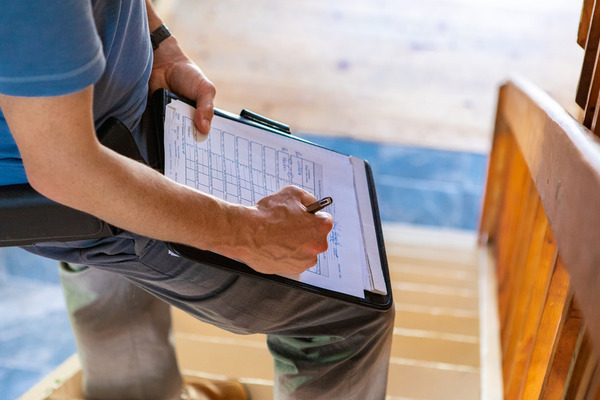 Posted: June 2nd, 2022
Every Home Has Its Quirks
Homes remain in high demand on the Space Coast, and with the inventory of available homes remaining low, buyers find themselves under pressure to move quickly. In the hustle to be the first to make a solid offer, some buyers may be tempted to skip the inspection process and grab a good home as quickly as possible. Many people are waiving their inspections in order to have a stronger offer and have their offer accepted. However, neglecting to inspect your new home before you make it to the signing table can leave you open to serious headaches in the future.
Every home has its quirks; especially if the home is 20 years old or older, there will be points of wear and tear that may not be immediately apparent upon your first walkthrough. Issues beneath the surface, like electrical and plumbing concerns, can pose serious health and safety hazards for you and your family. At best, they can become serious inconveniences – and the longer you wait to make repairs, the more expensive they become to fix.
The results of your inspection can help you determine whether or not you want to move forward with the purchase, so it's important that you choose a home inspector you can trust to give you the insights you need to make the right choice. Even if you've decided to purchase the home as-is, your inspection report will help you prepare for the repair work you'll need to budget for in the next few years.
How to Find the Best Inspector
Start With Your Realtor's Preferred Vendors
As is the case with most aspects of the home purchase process, your real estate agent will be able to offer their insights about good inspectors to trust before you purchase your home. Often, Realtors will have specific inspection teams that they work with frequently because of their professionalism and thoroughness when examining every corner of the home. Real estate professionals like the ones on the Ellingson Properties team will act in your best interest throughout your home purchase so that you'll be comfortable in your new home for years to come.
Still, it's a good idea to do a little of your own research so you can ensure that you get results that offer you the most value in your decision-making process.
Ask for a Sample Report
A real estate inspection report can be overwhelming to interpret if you've never gone through one before. A trustworthy real estate inspector should have a sample report available on their website or that they can deliver to you in person so you'll know what you should be looking for. As very basic guidelines, an inspection report should include plenty of pictures, detailed information about any issues discovered, and suggestions on how to resolve those problems.
Check for Online and Word-of-Mouth Reviews
Google, Yelp, and other similar review sites can tell you a lot about the experience you'll have with a real estate inspector. While every situation is unique, you should be able to see a clear pattern of people's experiences with your chosen inspector. Look for any reviews that note the homeowners' ease of understanding of the results of their inspections. It's also a good sign if reviewers note that they were able to stay at the property during the inspection and ask questions as they came up.
Additionally, pay attention to recommendations from friends and family who live in your area. They'll be able to give you a more in-depth account of their inspections.
Ask for Qualifications
First and foremost, your inspector should be insured. Inviting an uninsured inspector to do the job can be a recipe for disaster, because they could hold you liable for any injuries they receive on the job. Additionally, E&O insurance will help cover your costs in the event that they overlook or mistakenly diagnose any issues.
Furthermore, a good inspector may be a member of a number of professional inspectors groups, including ASHI, NAHI, or InterNACHI. Membership in these organizations isn't a necessity, but it can indicate your chosen inspectors' degrees of expertise, training, and professionalism.
How to Read an Inspection Report
As we mentioned above, a home inspection report can be daunting at first glance. Reports are often several pages long, detailing all of your inspector's findings from every single section of your intended new home. You may think that receiving a bulky report is an indicator of a large number of red flags, but that's not necessarily true! Your inspector is required to list every problem they encounter, including the very minor ones that won't affect your day to day life.
Typically, your inspection report will include a summary after the cover page and the table of contents. This is the first place you should focus, as it will briefly detail the major areas of concern and potential repair solutions. A good inspection report will label each issue based on its severity, as well as how costly and time-consuming it will be to repair it.
After the summary page, your report should go into greater detail about each issue discovered. Keep in mind that this may include such minor issues as missing window screens that don't pose a hazard to you and your family. The detailed sections should offer suggestions for repair as well as the immediacy of the necessity of the repairs. They will not, however, include quotes for these repairs.
Once you've received your report, your inspector should make themselves available to answer any questions you may have. Their goal is to educate you about what these issues will mean for you and your family should you choose to move forward with your home purchase. The more comfortable you are with this information, the more confidence you'll have in your decisions.
Don't Skip the Inspection
Every homebuyer should have a thorough understanding of what's going on beneath the surface of their potential homes. Don't skip the inspection when you're ready to buy! If you're interested in purchasing a home in today's market, it's so important that you work with a Realtor with your best interests at heart. Get in touch with the Ellingson Properties team today by calling 321-750-7050.