What to Expect During Your Corporate Relocation to Brevard County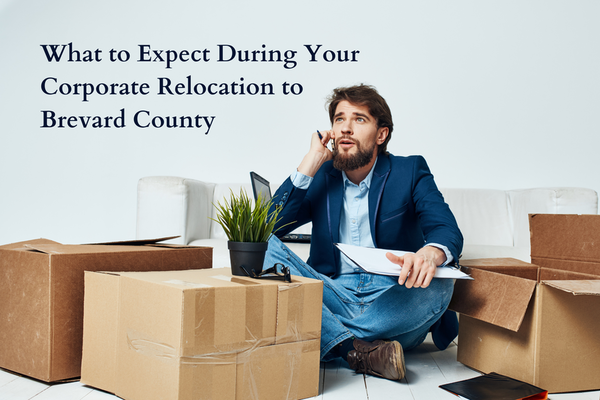 Posted: July 27th, 2023
Moving Closer to Great Opportunities
Business has been booming in Brevard County, especially over the last five to ten years. In light of the L3Harris merger of 2019 and the boom of aerospace and defense companies like Blue Origin and SpaceX, people from around the world are coming in droves to Florida's Space Coast to embark upon new careers and exciting job opportunities.
If you've ever been through a corporate relocation before, you know that timing can be tricky. You most likely need to sell your home in your current location before you find the perfect place near your new job. As you gear up to take on new responsibilities in your new career, you probably won't have the bandwidth to juggle the sale of your old home, the purchase of your new home, the move, and starting the new job without any help. In these situations, it's critical that you work with a real estate professional who can guide you through the process with ease.
For a relocation like this, there's a good chance you'll work with a relocation company that will utilize a local real estate company (like Ellingson Properties) to help you find the perfect home and seal the deal. Here's a breakdown of what you can expect during the relocation process.
Step-by-Step: Using a Relocation Company
Once your company has alerted their chosen relocation company that you will need their services, you can expect a timeline fairly similar to the one that follows:
Your relocation company interviews you to determine your desired new location as well as what you want and need from your new home. They'll take information about things like the size of your family, any mobility considerations, schooling requirements, and so on to help them ensure you find the perfect fit for your family's needs.

The relocation company then contacts a trusted real estate brokerage in your target area to begin the search. The selected team member at the brokerage will submit a

BMA, or broker's market analysis

, that presents their game plan for securing your new home given the current market conditions in the area.

At the same time, your relocation company will go over your options for selling your current home, helping you knock out any tasks that may sell your home more quickly while still making a profit.

You will work directly with the relo company's chosen real estate agent during the home search process. If you're able to, you may take a trip to your new location to experience it firsthand. Your agent partner will show you a handful of selected homes that meet your criteria, and hopefully you'll find one that makes sense for you and your family.

You'll proceed with the home purchase process as usual, right up to signing the contract and receiving the keys.
Seems pretty straightforward, right? However, as we mentioned above, relocating for a job can be a real balancing act. You need a few tips to help you get through the process with minimal stress so you're primed for success.
Tips to Make Your Upcoming Corporate Relocation Easier
While your corporate relocation company will be helping you with a great deal of the work, it's important to do some preparation of your own to make sure you and your family get the service you need.
Understand Your Timeline
This is probably the most critical part of your entire relocation. You will need to create a timeline for your relocation based on when you need to start your new job. To further complicate things, you may need to sell your home before you move if, for example, you have a home sale contingency on your offer. All of this means that you need to knock out a lot of important tasks in a short amount of time.
A great real estate agent has the ability to move the process forward with ease, but you can facilitate the process, too. As soon as you know a relocation is on the horizon, discuss with your family any must-haves or deal breakers for the new house. Ensure all of your most important documents are in a safe place that's easy to access as you travel. If you have the chance, set up your visit to the new location as soon as possible.
Understand What's Offered in Your Relocation Package
Not all corporate relocation packages are the same. Some companies offer their employees assistance with packing and moving; some offer to cover temporary housing while the employee finds a home to purchase; still others reimburse their employees for their travel expenses. We can assume that your employer will give you a complete breakdown of their relocation package, but it's important to get to know these details intimately. If your company doesn't cover the cost of packing and moving, that's a task you and your family will need to start on right away.
Take Advantage of Every Resource Available
Moving is stressful for everyone–your company should understand this fact. To help alleviate this stress, your company should present you with a host of resources to simplify the process and address your physical and emotional needs as you transition. Your HR department may offer counseling services to help you adapt to the change and to learn how to address the move with young children. They may also be able to give you a directory of healthcare providers, activities, schools, and so on in your new area. They can even help you with the process of transferring your vehicle registration to a new state. Whatever their specific menu of offerings includes, be sure to take advantage of as many as possible.
Be a Little Flexible
Especially if you're moving across the country or to another part of the world, you may find that the homes for sale are a great deal different from what you expected. For example, someone moving from Florida to the upper Northeast may be disappointed by the lack of private pools at available homes. Conversely, people moving from the Northeast to Florida may not be able to find the historic-yet-livable homes they've been accustomed to. It's important to have some flexibility when searching for your new home, especially when it comes to aesthetics and amenities.
To help you with this point, it's a great idea to build a relationship with the real estate agent you've partnered with. A great agent will be able to tell you the quirks and benefits to living in Brevard County, as well as which features are necessary, which are common, and which ones you're not as likely to find in the area.
Brevard County Corporate Relocation Experts
Corporate relocation companies tend to rely on real estate brokers and agents that produce consistently great results. That's why so many relo companies turn to Ellingson Properties for employees moving to Brevard County. Feedback from our corporate relocation customers indicates that our team members' community connections, comprehensive marketing plans and market analyses, and expert negotiating skills help to facilitate each transaction beyond expectations. To learn more, browse our Corporate Relocations page, or call us at 321-750-7050 today.