What You Need to Know Before Buying Waterfront Property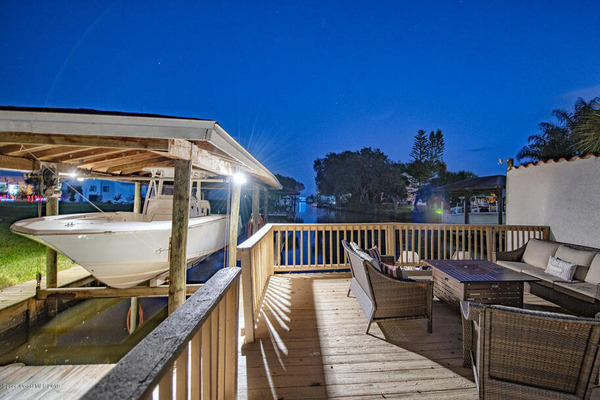 Posted: October 1st, 2020
Owning a piece of waterfront property is like owning your own little section of paradise. From watching sunrises and sunsets glisten across the water to catching a glimpse of fish and dolphins playing in the waves, waterfront properties offer unmatched peace and tranquility for anyone who has the opportunity to live there. Luckily for us, Brevard County's waterfront options are abundant.
However, living in a waterfront area and caring for land adjacent to a body of water comes with a particular set of considerations that you don't really have to think about when you're living in a landlocked space. Here are a few things to keep in mind before you set your heart on a waterfront home:
Your nearby body of water comes with unique rules for use
The fact that you're buying waterfront property doesn't immediately justify bringing home a jet ski. As you've probably seen posted on signage, every body of water has a specific set of guidelines for use. Often, smaller lakes and ponds don't allow you to swim or launch your boat for your safety and the safety of the surrounding wildlife. If you are situated on a canal or near an ocean, pay attention to any posted speed and height restrictions. Also, if you decide to go fishing, ensure you have any and all proper licenses.
You'll also want to get information on whether or not you're allowed to build on the water. If you have a property on the Indian River, for example, you may have the opportunity to build a dock and an area for boat storage. Your Realtor will be able to provide that information for you.
Waterfront property comes with a higher risk of flooding
It's obvious that you'd be more prone to flooding on waterfront property, but many homeowners don't consider the reality of this until it's too late. Your homeowners' insurance will most likely come with a premium to help protect you against flooding. Keep in mind that if you choose waterfront property in an area with a very high flood risk, there's a good chance your property value will decrease significantly over time.
Another thing to keep in mind regarding flooding is that some waterfront properties come with the responsibility to maintain the bulkheads, or the walls separating your property from the water (commonly referred to as a seawall). Repair and maintenance on bulkheads can be particularly expensive, so you'll want to do your due diligence in examining their condition before you close on your waterfront home.
Water is always in a flow state (pun intended)
Waterfront areas can change drastically over time. As water levels rise or sink, wildlife may decide to migrate to your area. This tidal action can even change the very shape of your property! What's more, as government agencies continue to take steps toward environmental protection, you may find that the regulations about how you can use your property change over time. If you're someone who can go with the flow, you shouldn't have much problem adjusting, but it's a good idea to have a contingency plan ready just in case.
Waterfront Property is Worth the Extra Considerations
Don't let these considerations deter you from finding a beautiful piece of waterfront property to call your own. The opportunity for recreation, proximity to nature, and the ever-soothing presence of water are worth it. Ellingson Properties currently has a number of beautiful available waterfront properties awaiting the right owners, but they won't last long. Call 321-750-7050 to learn more.