Creating the Ultimate Home Office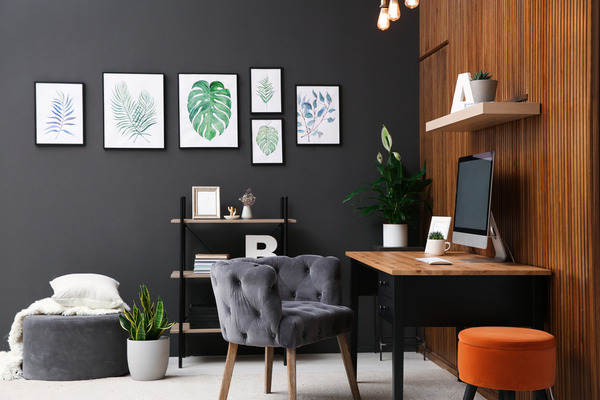 Posted: April 6th, 2022
There's a good chance that you've spent at least a few days working from home by the time you're reading this blog. In the spring of 2020, a majority of office workers and "non-essential" workers worldwide carried out their daily tasks from the safety of their homes, changing the way we viewed work forever.
Although work-from-home restrictions have since been lifted for a majority of businesses, some companies have adopted permanent remote or hybrid workplace structures because of their benefits to employees. If you're one of the many people anticipating to work remotely for the foreseeable future, using your laptop in bed simply won't cut it for the long haul. It's time to create a functional dedicated workspace in your home.
The Main Characteristics of an Efficient Workspace
At some point in your career history, you may have found yourself in a workspace where you simply didn't feel as productive as you'd like to. There is something to be said about a well-designed workspace for encouraging productivity without adding to our stress. But what are the components of an office that put you in the right mindset to complete your tasks?
Appropriate Lighting
We've all been there: after hours sitting beneath buzzing fluorescent lights, we leave our desks and head home with headaches. Installing proper lighting is crucial to keeping you healthy while you work and helps you avoid distractions. Natural lighting is preferable because, according to HMC Architects, it reduces headaches, improves mood, reduces drowsiness, and helps you avoid eye strain. If you don't have much natural lighting in your office, opt for bright ambient lights that won't glare against your computer screen.
Adequate Comfort
There's a fine line between too comfortable and not comfortable enough when it comes to your office setup. Working from your bed or sofa all day could tempt you into napping or watching TV, but if you remove all comfort from your space, you won't want to spend more than 5 minutes there. Desks and chairs that are ergonomic can help support your posture, reduce back pain, and even eliminate the usual daily fatigue.
Good Connectivity
When you're working from home, you're most likely on the internet for a majority of the time, if not all of it. Having an internet connection that frequently drops off is not only frustrating, but it may also prevent you from completing your task list. You'll want to ensure you have an internet service that supports all the devices you need to use to complete your work; it could be a good idea to speak with an IT specialist to determine what routers and devices will help you get the connection you need.
Plenty of Storage
At the very minimum you need basic office supplies and equipment to simplify the process of working from home. Any additional notebooks, workbooks, and documents bring with them extra demands for storage space. Increasing functional and organized storage is one of the first tasks homeowners tend to knock out when improving their home offices.
Our Favorite Home Office Improvements
Add Built-In Shelving
Built-in shelving and storage solutions can provide an elegant, sleek look to any home office space. Whether you use them for your book collection or need something with more dividers for office supplies and paperwork, built-ins give you the solutions you need without making your space seem cluttered or bulky.
The task of making built-ins is one that requires some familiarity with home improvement, so if you're not a seasoned builder, we recommend working with a team of professional renovation specialists like Echelon Builders to get the job done. Built-ins look the most natural when they flank already-existing structures, like a fireplace or a built-in desk, but a renovation specialist should be able to make it work the way you want it to.
Set Up a Virtual Assistant
Smart home tools like the Amazon Echo Dot offer convenience and functionality the likes of which we haven't seen in decades past. Systems like these allow you to listen to the news, turn on lights, set timers and alarms, and even manage your schedule all through simple voice commands. When you set up your home with other smart devices, you'll be able to use your home office like a control center and keep your home functioning while you focus on work.
Smart home devices are simple enough to set up on your own, but many well-known IT services offer at-home setup to help you make sure you're getting the most of your systems.
Get a Desk and Chair You Love
Your desk and your chair are where you'll spend the majority of your time as a remote worker, so you want to make sure you love them enough to see them for hours each day. The office chair is all-important to help you prevent back pain and fatigue so you're not fidgeting and trying to get comfortable throughout the day. Additionally, you need a desk that provides you with space to house your computer, printer, and whatever other tools and supplies you use every day.
Take your time when shopping for your home office desk and chair. Get reviews from your friends and family members who also work from home, and if possible, try out your potential office furniture in person to make sure it suits your unique needs.
Create Space for Planning and Creativity
Even if your work tends to be fairly cut and dry, it's always helpful to have a space where you can plot out ideas and see the bigger picture. Whether that takes the form of a whiteboard, a cork board, or even just a square of chalkboard paint depends on how much planning and creating space you need. Be sure to include space for a physical calendar if you prefer to write out important dates by hand. Visualizing your schedule and ideas in one space can help you stay focused on your goals.
Add Decor that Brings You Joy
As you check off the items on your to-do list, it's important to take small breaks and let yourself de-stress from the hustle and bustle. Be sure to include decor items that make you happy and bring you a sense of calm, like plants, trinkets, candles, or tabletop sculptures. You don't have to make your space cluttered with your personal flair, but adding in personal, happy touches can keep you moving forward throughout the day.
Leave Room for Switching Tasks
Setting aside space for different tasks can offer a big boost to your productivity; for example, you may want one desktop computer for your graphic design job and a separate nook with your laptop to write and send emails. The home office of our dreams has enough room to compartmentalize different tasks. You should include appropriate furniture and other accouterments to each area to help you complete each job to the best of your abilities.
Set Up Your Space for Success
As you plan to work from home long-term, now is the best time to set up your functional home office to help you meet your goals. A professional renovation team like Echelon Builders can help you turn your ultimate office ideas into reality and give you insights to improve the efficiency and functionality of your space. To get started on your project, call Echelon Builders at 321-339-0320.