The Basket Brigade and Other Holiday Giving Opportunities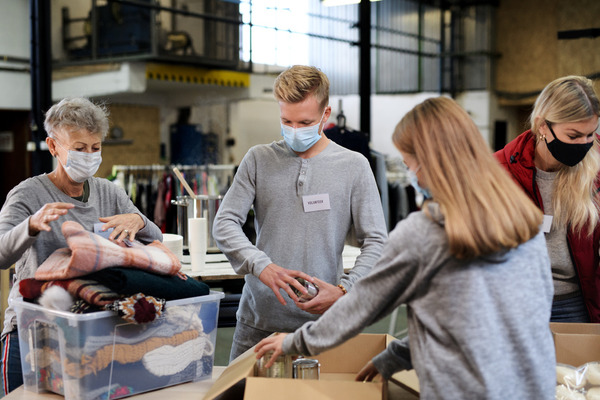 Posted: February 12th, 2021
What's the first thing that comes to mind when you think about the holidays? Perhaps it's the gift giving, or maybe the decorations; we're guessing you also think about gathering with family and friends to share meals and warm sentiments. However, for some families in need in our community, the holidays present a challenge. Furthermore, complications from COVID-19 have created even more difficulties for people to grapple with.
A number of incredible organizations in the Brevard County community have restructured their operations to send aid at a time when caring and compassion are truly needed. From Christmas toys to nutritious meals, these organizations stepped up to ensure the holidays were a little brighter for everyone. Keep reading to learn more about them.
Space Coast Basket Brigade
The Space Coast Basket Brigade is an organization that "started with one family surprise-delivering 4 holiday baskets to unsuspecting families [and] has now grown into one of the largest contribution projects in the Space Coast," according to their website. Typically, volunteers gather at a specified location to pack, decorate, and deliver Thanksgiving baskets to families in need.

To avoid large groups of volunteers gathering at once, the Basket Brigade created a new system that used time slots to ensure volunteers worked in small groups for short amounts of time. Additionally, volunteers were required to wear masks when hand-delivering the baskets. They also gave volunteers the option to drive up to the meeting site to collect baskets for delivery, keeping the whole operation contact-free.
Update: This year, the Basket Brigade extended their season of giving and initiated a Holiday Basket Brigade. These baskets were specifically curated for children in need and included clothing, food, toys, and toiletries. Altogether, the Basket Brigade managed to help over 500 children in the Brevard County area, thanks to the generosity of community members.
South Brevard Sharing Center
According to their website, "The South Brevard Sharing Center Inc. (SBSC) was founded in 1971 as a non-profit, community based agency whose mission is to support, strengthen and empower families to achieve self-sufficiency in south Brevard County, FL." They connect people who are experiencing homelessness or are at risk of homelessness with the resources they need to help them gain stability.
The SBSC hosts an annual "Magic of Christmas" holiday drive to help provide gifts for children in families affected by homelessness. During the 2019 holiday season, the SBSC provided gifts for 352 children, as well as food to a number of individuals and families in need in Brevard County. This year, they aim to raise $50,000 to spread love even further.
The Children's Hunger Project
Headquartered in Cocoa, The Children's Hunger Project aims to battle childhood hunger and malnutrition by providing weekend meals for students and fighting malnutrition during the school year. This year, the CHP's mission was critical. According to their website, over 50% of school-age children in Brevard County are in the free and reduced-price meal program. When the pandemic hit, many of the families who relied on the schools' free meals struggled to feed their children.
Over the summer of 2020, the CHP went from feeding 2,300 students to feeding over 6,000. During the holidays, they are hosting food drives to help as many students as possible while schools are closed for the break.
Have you heard of any other incredible organizations around the Space Coast that are working to make the holidays special for everyone? Tell us about them on our Facebook page!