The Best Places to Enjoy Around Brevard County While Staying Socially Distant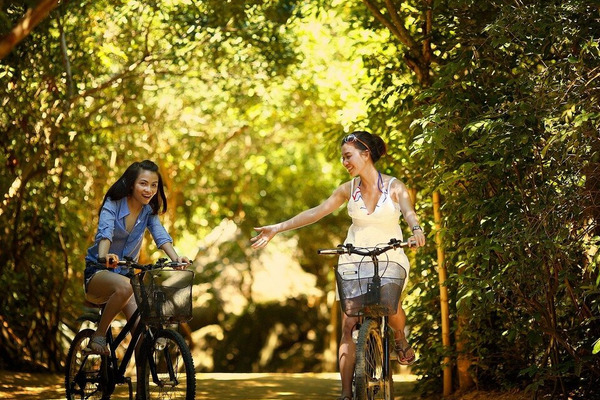 Posted: November 13th, 2020
When the coronavirus emerged in the U.S. at the beginning of this year, no one could have predicted how much life would change in such a short time. Of all the adjustments we've had to cope with, quarantining and staying socially distant seems to be the change that people had the hardest time getting used to. After all, people are social by nature! Couple a lack of human interaction with boredom from being stuck at home and you've got a recipe for stir-craziness.
Luckily for us, Brevard County boasts a huge variety of safe activities that you can participate in without much human interaction. In times of high stress, it's important to give yourself a break once in a while. Any of the following activities are great options for breaking the monotony and giving you a healthy mood boost:
Get on the water
Brevard County is home to many beautiful lakes and rivers as well as offering access to the ocean. Grab a canoe or a kayak and find your favorite launch spot, where you can get a close-up view of the wildlife while avoiding crowds. The Banana River and the Intracoastal are both popular areas for outdoor enthusiasts. You may even have the opportunity to see a manatee, especially as the temperatures continue to drop.
Hop on a bike
Did you know that our community is home to miles of bike trails covering a variety of terrains? Strap on a helmet and take a journey through forests, wetlands, and protected habitats. There are trails for cyclists of every skill level, from avid offroaders to casual cruisers. In particular, the East Central Rail Trail is nearly 50 miles long and traverses from Titusville all the way to Edgewater. According to their website, the Rail Trail serves as a corridor for commuters and recreationalists alike, and is the longest rail-trail conversion in the state of Florida.
Enjoy some time with nature
There are more parks and wildlife preserves around Brevard County than we can count. From the beaches at Canaveral National Seashore to the Enchanted Forest Sanctuary in Titusville, there are so many ways to celebrate the natural beauty around us in Central Florida. To help discourage large crowds, Canaveral National Seashore is operating on a limited schedule and enforcing Leave No Trace principles to keep the area safe for everyone. Keep in mind that being outdoors does not negate the need for social distance, so it's your responsibility to avoid crowded areas and take proper health precautions when enjoying your time at a park.
Take a walk
Many of our favorite neighborhoods around Brevard County are beautiful, private oases, complete with their own water features and wildlife preserves. If you don't want to stray far from home base, why not take a walk and get to know more about your immediate surroundings? While it's still best to avoid playgrounds and public facilities, it's easy to keep your distance from other walkers on the trails, and fresh air and sunshine definitely help us to shake away the blues.
Keep up with safety precautions
We are glad that many of the wonderful businesses in our community were able to reopen after the quarantine period; however, it's important that we all do our part to promote health and safety so that such businesses can continue to operate with healthy employees. At Ellingson Properties, our team members are following all safety precautions to help keep you and your family safe at showings, closings, and beyond. If you're ready to experience the true Florida lifestyle in Brevard County, give us a call at 321-750-7050 today.