Luxury Real Estate Auctions Return to The Space Coast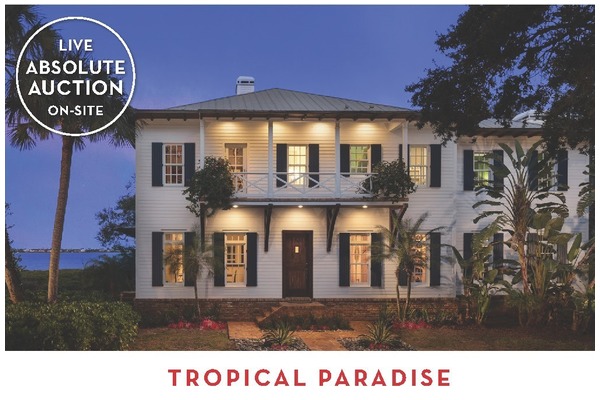 Posted: March 5th, 2020
Luxury Real Estate Auctions on Florida's Space Coast
Ellingson Properties is evaluating auctions as a way to sell luxury real estate on Florida's Space Coast. On March 28, 2020 DeCaro Auctions International in cooperation with Jack Jeffcoat of Ellingson Properties will conduct a live, absolute auction of a multi-million dollar Brevard County property. Built in 2001, the 3.41 acre estate located at 8880 S Tropical Trail, Merritt Island is one of the finest examples of waterfront living which includes both the Indian River and the Banana River shorelines.
What is an absolute auction?
Visions of real estate auctions typically involve groups of people on the courthouse steps bidding on foreclosed homes. Luxury real estate auctions are a completely different experience, from start to finish. For those unfamiliar with auction lingo… An absolute auction is one where there is no reserve or minimum price. In addition, in an absolute auction the sale is awarded to the highest bidder regardless of the bid. A live auction is defined as one that is hosted by an auctioneer in real time before the bidding audience.
Luxury Real Estate auctions are a fast-growing force in the sales of high-end properties. Absolute auctions have been very popular in Miami and Broward County and are expecting double digit growth in 2020. There are many reasons for the popularity of auctions even in a healthy market. The most popular reason lies with the difficulty of traditional home sales where the buyer pool is very small. For a seller whose property has languished on the market, the advantage of an all cash deal with a quick closing and no contingencies can be very attractive. Auctions present opportunity and buyers are attracted to opportunity.
To increase the exposure of the subject property and thus the pool of qualified buyers, a customized and highly strategic marketing campaign is executed. Targeted marketing would include the broadcast of professionally produced commercials as well as advertisement in highly visible print media such as the Wall Street Journal. The more buyers participating in 8880 S Tropical Trail's live auction, the more likely competition will drive the price upward. Some marketing strategies are so successful at increasing visibility to qualified buyers that the subject property is sold before the auction is even held.
The advantage of auctioning
Luxury auctions may be the right solution for regions that have little or no local market. An auction is also a tool to demonstrate to an owner their property's actual worth. Over the last couple of years, Merritt Island has recorded fewer than a half dozen home sales above $2 Million. Currently, there are six luxury properties for sale above $2 Million in this unique and historically rich area of Brevard County.
More about this beautiful Merritt Island estate home
8880 S Tropical Trail is a very special Merritt Island estate home and a quick read of its description reveals why. "Welcome to a grand, gated, residence situated on 220-feet of River to River waterfront. This magnificent home, at the end of a seashell-and-gravel driveway was constructed in 2001 by Custom Home Builder, David Charroux, and designed by award-winning Palm Beach architect, Raphael Saladrigas. The stunning, two-story home on a bountiful 3.41-acre lot, boasts 3,700 square feet of interior space --3 bedrooms, 4 baths, plus a living room, dining room, and game room. Captivating views of the surrounding waterways can be enjoyed from nearly every room in the house. A luxurious West Indies vibe is featured throughout the home with the appointment of exotic wood and bamboo flooring." For more information about this property, see Ellingson Properties Luxury Properties.
Potential bidders must obtain a bidder's card to participate in the event. On Saturday, March 28th at 11 AM an auctioneer will start the auction at the property with the activity ending when the "hammer or gavel is dropped" upon acknowledgment of the last highest bid. Anyone interested in participating must obtain a bidder's card and can do so starting two hours prior to the auction start.
Each Saturday over the course of the next 3 weeks open houses will be held at the 2005 built Merritt Island estate. The DeCaro Team will also host a Broker's Open House in this time period also. Of course, there will be private viewings of home as well. If you are interested in more information regarding this home or its upcoming auction contact Ellingson Properties.
---