Cocoa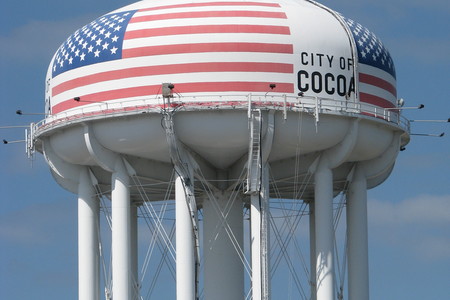 The City of Cocoa, located in central Brevard County and west of Cocoa Beach, has a total area of 15.4 square miles with a downtown area located on the banks of the Indian River Lagoon. Cocoa can be accessed directly off I-95 and State Roads 528, 520 and 524. The historic downtown area called Cocoa Village is a charming place with many restaurants, specialty and gift shops. Cocoa Riverfront Park features a boardwalk, amphitheater, covered pavilions and playground. The downtown waterfront area is also home to luxury condos, and a marina. The Historic Cocoa Village Playhouse opened in 1924 as The Aladdin Theater and was renamed in 1984. The Playhouse is on the National Register of Historic Places and in 2011 the City of Cocoa took ownership. It is a not-for-profit organization and is volunteer run. Other special annual events in Historic Downtown Cocoa Village include a Mardi Gras celebration, Space Coast Comic Con, Sip and Stroll evenings, Brewery festivals, Arts and Crafts shows and Riverfront musical events and concerts throughout the year. The population of Cocoa is just under 20,000.
Cocoa Homes for Sale Come in a Wide Range of Styles and Pricing
Homes for sale in Cocoa come in a wide variety of styles and pricing from riverfront high rise condos and single family homes, to mobile homes, townhomes and even some historical homes along the Indian River. New construction subdivisions are popping up throughout the city. Prices range from under $100,000 to over $1,000,000. Older homes often concrete construction and terrazzo floors.
To explore what homes are currently on the market please use our SEARCH BREVARD MLS LISTINGS and select the city Cocoa. You can narrow your search by price, size and features.
Location
Cocoa is located a short driving distance to Cocoa Beach, Patrick Air Force Base, the Kennedy Space Center and Port Canaveral, the 2nd largest cruise-passenger port in the USA. Because of its proximity to "The Cape", it home to many aerospace employees. This community is an integral part of Brevard County and home to families, retirees and vacationers from all over the country. The city of Cocoa extends from the Indian River to west of I-95.
History
Historical accounts state the city of Cocoa was first founded by fishermen and eventually settled by families around 1860 with the first post office and commercial building erected around 1881. There are several versions of how the City of Cocoa got its name. One states it was named after Baker's Cocoa, another tells of a woman who supplied hot cocoa to sailors, while still another story states it was named after the Cocoa plant.
In 1890 the business district was destroyed by fire; however the city continued to develop and was incorporated in 1895. The new Indian River Railway from Jacksonville through St. Augustine to Cocoa served to elevate the city's economic and population growth. The development of the Space Industry caused the population to dramatically rise and launched Cocoa as a tourist destination for the thousands visiting the area to witness launches from Cape Canaveral.