Suntree / Baytree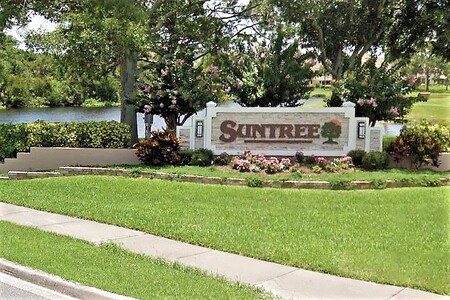 Suntree is an unincorporated, planned community in Brevard County Florida and maintained by a Master Association. It is located near the center of the county, off I-95 near Viera and is a highly desirable community. It lies approximately halfway between Rockledge and Melbourne. There are over 4,500 homes within the wide tree lined boulevards in neighborhoods that share the four square miles. Abundant natural spaces include lakes, preserves, parks and the Suntree Country Club with 36 manicured holes. Several parks are dotted throughout Suntree including the 5 acre Interlachen Park, the 15 acre Jack Mahon Park as well as several day parks. The Parks may offer such amenities as basketball courts, tennis courts, bocce ball, horseshoe courts, pickleball, a soccer/baseball field and playground equipment such as swings, slides, hanging bars and covered pavilions. Suntree residents enjoy over 100 miles of winding trails throughout the community taking in a wide variety of plant species, birds and animals.
A wide variety of services are available in Suntree such as grocery stores, restaurants, shops, schools and medical facilities. The Brevard County Government Services complex is in nearby Viera along with a major shopping center.
Homes for Sale in Suntree Offer Privacy
Suntree real estate consists of upscale estate homes, single family homes, townhomes, condos and half duplexes, many with golf course or lake views. Prices range from around $100,000 for smaller condos to well over $600,000 for larger estate homes. Prices in Suntree continue to increase due to its desirability and location.
To explore what homes are currently on the market please use our SEARCH BREVARD MLS LISTINGS and select the city Suntree. You can narrow your search by price, size and features. Ellingson Properties has experience with Suntree neighborhoods, condo complexes, etc... if you are interested in learning about Suntree communities, scroll down and click on Explore Suntree Subdivisions.
History
In the 1930s, a man by the name of Joe Wickham explored the area and later became county commissioner. He imagined a new road running north between the Indian River and Lake Washington to consolidate the district and tie the county together. This became Wickham Road and gave Suntree and Viera a major thoroughfare. For decades Wickham Road was nothing more than a dirt trail. The Duda family owned a great deal of farmlands in the area. The new road gave the Duda's the opportunity to develop their farmland. The result was the Viera Company.
Brevard County's Space Coast
Suntree is located in central Brevard County, also known as Florida's "Space Coast". Brevard County's 72 miles of coastline and 71% of the 156 mile long Indian River Lagoon are what draws residents and visitors from all over. Beachgoers and surfers favor the Space Coast for its amazing, uncrowded beaches and waves and the vast amount of free beach access and parking. Sailing, boating, fishing, paddle boarding and kayaking are favorite activities on the Indian River. Melbourne Orlando International Airport, Orlando International Airport and Sanford Orlando International Airport are a short drive from most cities and towns in Brevard County
Port Canaveral, one of the countries busiest cruise ports, is home to Royal Caribbean, Disney and Carnival Cruise lines. Residents and visitors can hop on a 3, 5- or 7-day cruise from the Port. Port Canaveral is also home to some great restaurants. Having lunch, dinner and/or drinks while watching the cruise ships arriving and departing the Port is a great way to spend a day in the beautiful Florida weather.