Forget Flipping–House Hacking is the Current Trend in Real Estate Investing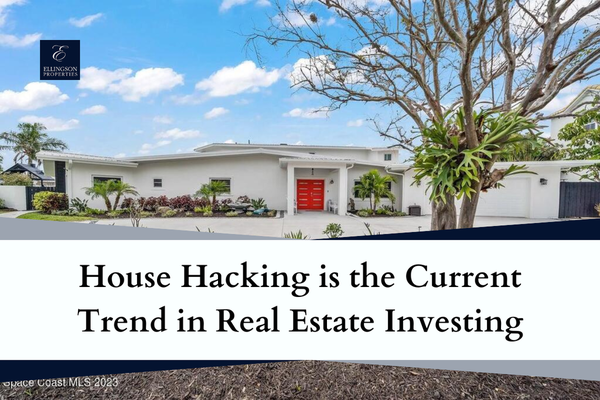 Posted: May 3rd, 2023
A Solid Investment Strategy for 2023
While investing in Brevard County real estate is a great way to build your portfolio and generate passive income, it brings with it a unique series of challenges that may appear too daunting for novices to overcome–namely, amassing enough capital for the initial home purchase. As a rule of thumb, you can expect your interest rate for a mortgage on an investment property to be at least 0.50% to 0.75% higher than typical primary residence mortgage rates, and you can also expect to make a 20% to 25% down payment as compared to the typical 6% for a first-time homeowner. The notion of needing to set aside that much cash before you can even begin seeing a return prevents many people from even considering property investment.

But what if we told you there was an easier way to secure and start earning from real estate investments?
House Hacking: Tried, True, and Making a Comeback
The term "house hacking" may be new to you, but its basic principle has been around for decades. In a nutshell, house hacking involves generating income from your current residence, allowing you to reduce mortgage costs or increase your savings. This is the perfect middle ground between homeownership and investment as it potentially allows you to purchase a property at primary residence rates (if you are buying new property) while giving you a passive source of income to help build your wealth.
Who is house hacking for?
The great thing about house hacking is that it is a great strategy for just about anyone who wants to get involved with property investments. It's an excellent option for:
First-time investors who want to dip a toe into investing without the sticker shock of a major investment purchase

Retired individuals or couples who want to earn income without taking on a traditional job

Part-time investors who want to keep their day jobs while they build their portfolios

Anyone who wants to reduce living expenses, put more money into savings, or build home equity
The best way to start when considering whether house hacking is for you is to assess your current housing and property situation. Do you have a larger home with a few rooms to spare? Do you have an RV or detached mother-in-law suite on your property? Do you have a garage or basement that could easily be converted? Are you in the market for a new home? By identifying your unique situation, you can determine the best strategy to boost your real estate earnings.
What are the most common methods of house hacking?
Several different strategies can be considered house hacking. These are just a few of the most common:
Purchasing a multifamily residential property and inhabiting one of the units
While apartment and condominium complexes with 5 units or more are considered commercial properties, small multifamily dwellings with two to four units, like duplexes, triplexes, and some townhomes, are still under the "residential" umbrella. Bear in mind that multifamily properties are generally more expensive than single family homes since they offer living accommodations for more people; however, if you're able to rent out the other units on your lot, you'll probably find that the cost of your mortgage is covered and you have some cash left over to put into savings.
Live in a house that you're flipping
If you don't mind active construction happening in your home, and if you're comfortable with moving fairly frequently, this might be the best option for you. When you live in a home that you're in the process of flipping, you can still purchase it as a primary residence, and the urgency with which you need to complete the flipping process is greatly reduced. You won't be caught unawares in the face of mistakes or hurdles as you will be on the property to find a solution when they happen. You'll also be able to gauge the market to determine the right time to sell so you can get the best return on your investment.
Renting out a detached mother-in-law suite or converted shed
If your property already has a mother-in-law suite, but no mother-in-law (or other family member or friend) to share it with, don't let it go to waste! Renting out your detached house is a great way to earn extra income with minimal hassle. If you do decide to convert a shed into a living space, you must be certain that the dwelling has proper plumbing, electricity, cooling, etc. This option is great for maintaining some privacy, especially if you can offer your tenants other amenities like laundry, parking, etc.
Converting a garage or basement
If your garage or basement are just dumping grounds for boxes and knickknacks, you're missing out on a huge opportunity. A converted basement or garage can serve as a perfectly adequate dwelling, especially for vacation rentals. Similar to converting a shed, you must be certain that your tenants have the electricity, cooling, and plumbing they need to be self-sufficient in their space. This offers less privacy than the detached option, but can be easily manageable if you can create a separate, private entryway for the rented space.
Offering a room for rent
This option offers the least amount of privacy, but it's also an option that a huge majority of people can try out right away. When you rent out a room in your home, you will be under the assumption that your tenants will be sharing the common areas with you, so you need to be extremely cautious during the screening process to ascertain whether or not they will be a good fit for your lifestyle. However, an added bonus of this method is that you're also splitting the cost of utilities, so you can greatly reduce your monthly overall costs of living.
Are there any drawbacks to house hacking?
As with any investment strategy, there are pros and cons to house hacking. Here are a few drawbacks to look out for:
Sharing space
House hacking involves earning income from property you already inhabit, so by nature it requires that you share at least some of your space with your new tenants. Obviously, if you're renting out a detached unit, you won't need to share as much space as you would if you were renting out a room in your home. In either scenario, however, there is more of a chance for a personal conflict to arise than there is if you were living off site from your rental property.
Active landlord duties
With you on the property, your tenants will be able to approach you directly if an issue arises within their unit. Any maintenance and upkeep issues within a renter's dwelling should be addressed as quickly as possible so that they can live comfortably, so this can leave you in the position of having to be on call to respond to emergencies.
Screening may be more stringent
In any rental situation, you want to be sure that you're thoroughly vetting your tenants to ensure they will treat the property with respect and pay their rent on time. If you're sharing your property with someone else, however, you really need to get into the nitty gritty to ensure their lifestyle syncs up with your standard home rules. This can feel too invasive for some as it may require you to find out your tenants' social habits, cleaning habits, daily schedule, and so on.
Live-in flippers move frequently
When you live in the home you're flipping, you have to move out once your upgrades are complete and you're ready to sell. Even for the most enthusiastic property investors, this can become tiring after the second or third time around, leaving you in search of some stability and peace. Many people who opt for the live-in flip tend to take their profits from their first few projects to purchase their family home before turning to more standard real estate investment projects.
Are You Ready to Try Home Hacking?
In today's housing market in Brevard County, many potential buyers are seeking multifamily properties and properties with detached units already set up as they understand the earning potential from these situations. After all, when you've worked hard to purchase your home, your home should be working for you, too! The team at Ellingson Properties offers years of property investment expertise and can help you find a property that will bring you closer to your investment goals. To learn more, give us a call at 321-750-7050 today.