These 7 Things May Scare Buyers Away From a Purchase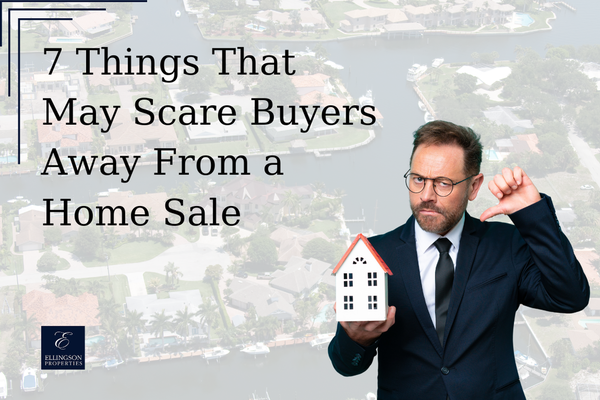 Posted: March 1st, 2023
The Brevard County Market is Moving in Buyers' Favor
As of January 2023, the scales have tipped in favor of buyers in Brevard County, with the current inventory of homes exceeding buyer demand. While this bias is certainly not as extreme as it was for sellers at the start of 2020, it still gives buyers the advantage when it comes to getting the features and pricing they want. Now, it should go without saying that sellers should always make their homes as presentable as possible before listing; but in a situation where buyers have more time to be "picky," sellers need to be particularly careful about how they showcase their homes.
It's easy to recognize obvious turn-offs as you go through your home sale preparation checklist–things like excessive clutter, scuffed flooring, and an overgrown lawn are fairly easy to correct before you book your first showing. However, if your home is staying on the market for longer than expected, and it's already priced competitively, you may be left scratching your head as to why no one is making an offer. The team at Ellingson Properties has seen it all, and we're here to provide you with our insights as to what may be scaring your potential buyers away.
Preparing Your Whole Home for Showing
You don't have to completely renovate your house to make it presentable to potential buyers, but you should pay special attention to all the little details. Keep reading to find out more about features and mistakes that will prompt your potential buyers to look at other houses on their lists.
Strong odors
You might think that visual features are the most important aspects when ensuring your home's successful sale, but scents are surprisingly influential when it comes to swaying potential buyers' opinions of your homes. Animal smells, mildew, old cooking smells, and bathroom smells are among just a few of the things that may make buyers think your home is dirty or in disrepair. On the other hand, however, don't go too heavy on the scented candles on wall plug-ins because everyone's scent preferences are unique. You don't want buyers to associate your home with a headache.
Decor with too much personality
Your potential buyers need to be able to see themselves in your home. If you have any artwork or decor that could even remotely be offensive to anyone, take it down and pack it up for your move. Really, you should keep artwork at a minimum besides simple pieces like landscapes and abstract art that matches your decor.
Perhaps surprisingly, you should also remove as many of your family photos as possible. Again, the goal is to make the space as neutral as possible so that buyers can envision themselves there. What's more, if your pictures have been hanging on the wall for quite some time, you may notice some discoloration after you remove the frames, so it will be a great impetus to repaint.
Broken blinds, hinges, and hardware
Gone are the days when sellers could rely on buyers to expect some DIY work upon entering their new homes. Today's buyer wants a truly move-in ready home from front to back. If your blinds and window treatments are ripped or broken (perhaps thanks to your family pets), it's recommended that you replace them before you start showing. Ensure your drawer pulls, door hinges and handles, baseboards, and beyond are in good shape. The less work your potential buyers have to do after move-in, the better.
Dingy light bulbs and outdated lighting fixtures
When it comes to the lighting fixtures that are quite literally putting a spotlight on your home's best features, you want to make sure they're up to the task. Refresh the look of your entire home with updated light bulbs; opt for a nice, bright, clean light, but don't choose bulbs that are uncomfortably bright, either. Additionally, updating your lamps and fixtures doesn't have to break the bank. Your local big-box hardware store should have sales on contemporary fixtures that are easy for you to install on your own.
Too much vibrant color
Your personal aesthetic is important to you, and during the time you've spent in your home, we're sure you've filled your space with lots of your favorite colors and textures to make it truly yours. However, beauty really is in the eye of the beholder, and there's a significant chance that your potential buyers don't share the same artistic sensibilities as you do.
We're sure you've heard this tip as you prepare to sell your home in Brevard County, but we'll say it again: update your home's interior to a neutral color palette before you start showing. Why? Neutral tones give your potential buyers a blank slate where they can envision their own artistic updates throughout the space, instead of making them feel like they're moving into a home that doesn't truly suit them or belong to them. Neutral colors allow your buyers to consider the versatility of the space, and they also remain timeless, so you don't have to worry about keeping up with the latest home decor trends.
Poorly maintained or no outdoor living space
Here in Central Florida, enjoying the great outdoors is pretty much a fact of life. Given our year-round mild temperatures and abundance of natural wildlife and water vistas, residents love spending their time in the garden, by the pool, or even observing the nature preserves adjacent to their homes.
If you don't already have an outdoor living space of some kind, you don't necessarily need to pour thousands of dollars into making an elaborate entertaining space, complete with gazebo, summer kitchen, and pool. However, pay attention to the way your backyard presents itself. Is it a place where you could envision children running and playing? Could potential buyers easily set up lawn chairs and enjoy a summer afternoon? Don't overlook how much of a selling point this can be.
Hovering while potential buyers view your home
We get it: you're anxious to know what your potential buyers think about your home. It can be so tempting to hang around during walkthroughs and showings and perhaps even do a little eavesdropping on the pros and cons that they're mentioning to their Realtors. However, many buyers note feeling uncomfortable when sellers insist on attending showings. They may feel like they don't have the space to speak up about their concerns to avoid offending you in the process.
When your real estate agent schedules showings for your home, make a plan to be out of the house to give your potential buyers some space to breathe. Also worth noting is that you should also plan to take any pets with you when you leave the home. You never know what potential buyers may be allergic to your furry friends.
Preparing Yourself for Showings
During the showing period, you should be extra vigilant about your daily chores. Don't leave any dirty dishes in the sink; make your beds before buyers come for viewings; keep windows and mirrors clean; avoid creating any unnecessary clutter. You'll also want to secure your valuables and make sure your home smells good, especially if you have pets at home.
Showing your home for sale can be an emotional process. During the time you've spent there, you've made a lot of memories and probably have strong sentimental ties to your home. Don't let the depersonalization process make you sad–just think of it as making space for someone else to make their own memories. You'll have so many more wonderful times to look forward to in your brand new home after you move.

If you're ready to sell your home in Brevard County, the team at Ellingson Properties is ready to help. Give us a call at 321-750-7050 today.